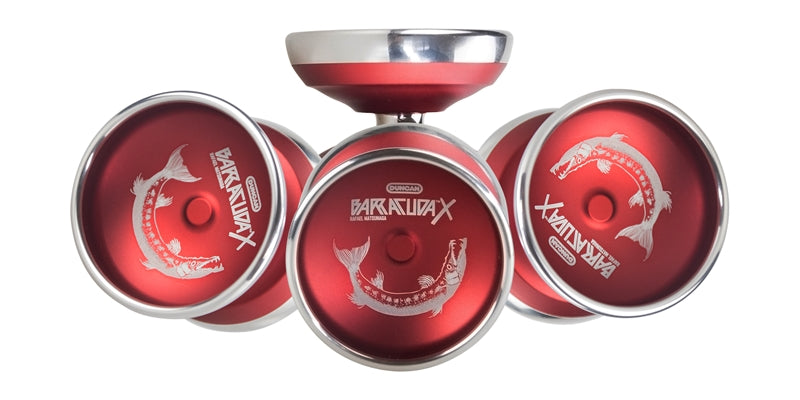 If you've been following our bimetal yo-yos, you know what we've been up to. We want to improve all our previous yo-yos. We believe in our designs, so we keep improving them to fit the constant advancements that are happening in modern yo-yo design.
But what's different this year? We hired some of the best engineers in yo-yo design to work on updating our yo-yos. From aesthetics to playability to tolerance, we are doing it all, we are all in. To make our yo-yos even better, we asked our team for their inputs and brought the prototypes to various contests so our fans could share their thoughts about the yo-yos.
We even added a licensed KonKave bearing to them, too, to increase spin-time and create better tolerance and an overall higher quality product.
Barracuda X
(This is a pre-production model. Hub will change for better performance.)
A yo-yo that is time-proven, used to win three world and more than twenty national, regional, and state championships. A classic Duncan yo-yo that is relevant even in the modern yo-yo scene. But we wanted something better...
Presenting to you our seventh bi-metal yo-yo, the Barracuda X, signature yo-yo of world champion Rafael Matsunaga!
After revisiting this timeless design for the fourth time, we realized that we needed a bi-metal version. We didn't want this to be mediocre yo-yo, so we put everything in to designing this product.
What kind of changes did we make? First up, the minimal cup. To give the best tolerance, we had to keep it minimal in the cup so it's an easier product to machine, allowing us to focus on the weighting the rim and giving a larger catch zone. Second, the material. If you are a yo-yo player, you know that 7075 Aluminium and stainless steel is a pretty bold combination. Making this possible is something that we are proud of. Lastly, the new specs make it reliable for 1A, 3A and 5A styles alike. The design is pretty straightforward, focusing on the actual playability, look and performance.
Overall, Barracuda X gave us the opportunity to maximize the original Barracuda's design limit. It's the yo-yo you'll like using both in stage in competition and off stage just hanging out. No matter if you play fast or slow, it's a comfortable design that you can rely on for daily use.
The Barracuda X comes with the all-new improved KonKave licensed bearing and white Rapid Ball.
Barracuda X Specs:
Weight: 63g | Diameter: 55.9mm | Width: 44.30mm | Material: A7075/SS
Yoshicuda X
Yoshicuda X is a variation of the Barracuda X. It features the same shape but a different cup zone, weight, and diameter.
We decided to release two versions because as we grow our brand and team, we wanted to ensure we continue to offer enough variety to please both our fans and our team, so when Yoshihiro Abe showed interest in a modified Barracuda X we just had to oblige.
The Yoshicuda X has a pretty similar catch zone to our Orbital we released in 2017, but it's deeper and a lot easier to catch.
Based on Yoshihiro's play style, it was important that it could hit his incredibly fast and dense trick maneuvers with ease. The catch zone and weight feeling are the key features here: this yo-yo is tailored for any tricks which quickly change direction and features a very comfortable catch zone, so you can catch and throw and catch and throw and the fun never ends.
Yoshicuda X Specs:
Weight: 65.5g | Diameter: 54mm | Width: 44.10mm | Material: A7075/SS
Comparison
The Barracuda X is 1.9mm larger compared to the Yoshicuda X that gives both a similar look, but makes play an entirely different world.
As far as width is concerned, it is pretty close, but we had to adjust a tiny bit more of the Yoshicuda X for tolerance purposes.
Overall, the weight and size are the playmakers here.
Barracuda X — Tends to be a standard sized yo-yo but incredibly light and floaty, so we took advantage of the 7075 aluminium and stainless steel material. Making it fast but maintaining a strong spin-time.
Yoshicuda X —This is a little undersized, but don't be deceived by the size; this is 2g heavier compared to Barracuda X to give you the maximum performance in a smaller package.
Both will come with new premium KK Licensed bearing to increase spin-time and increase tolerance. It's the tiny changes we are making that have made some of the biggest impacts on our new designs.

Limited numbers will be sold at the 2019 US Nationals Yo-Yo Contest, and we will post an announcement later for worldwide release.