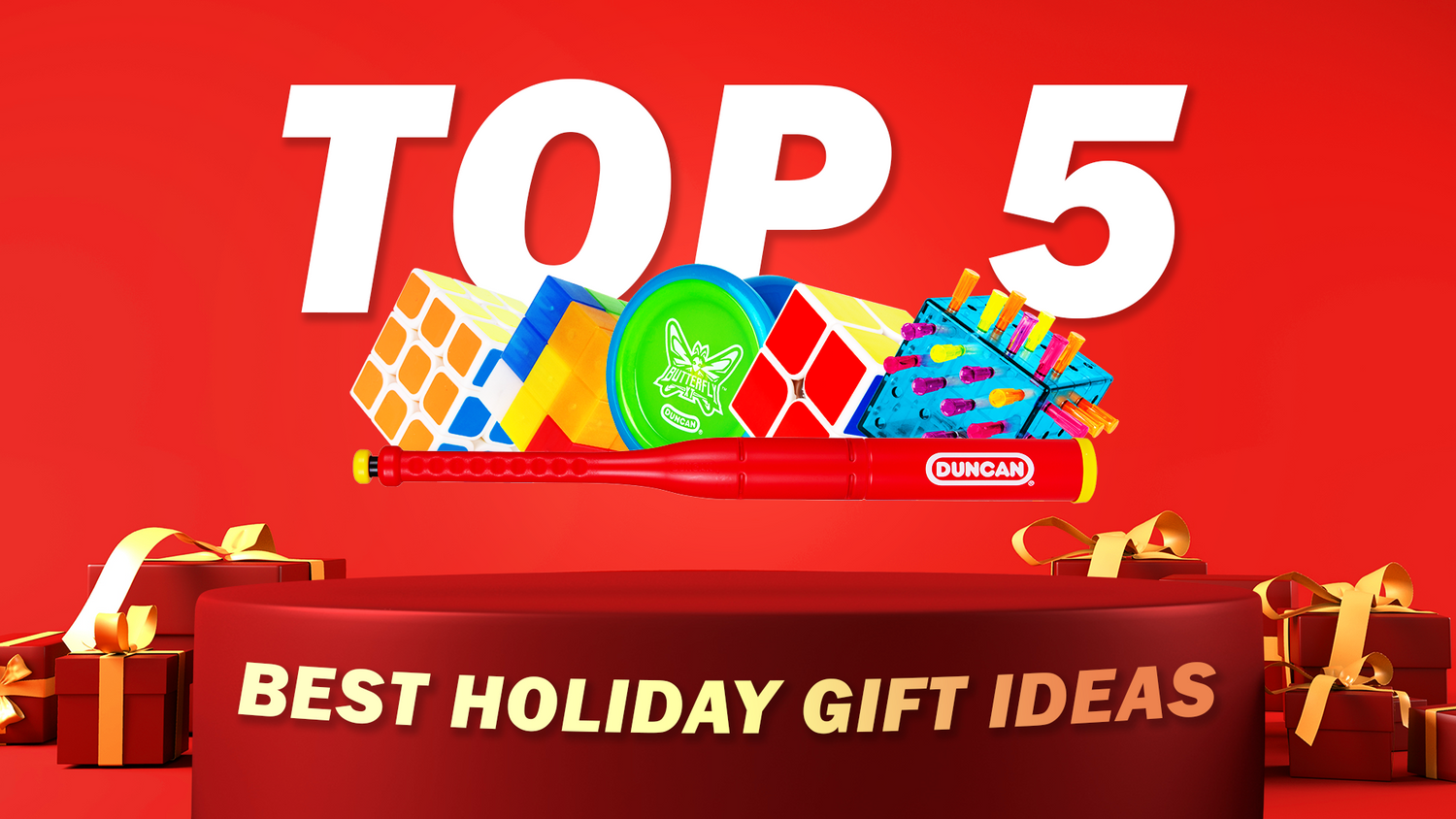 As experts in toys and kid fun, we have compiled a list of our top five picks for holiday gifts this year. Whether your kids will be playing in your house or outside, these fun toys will keep your kids entertained through the winter. As a bonus, they have a ton of benefits including helping build fine motor skills and critical thinking!
Our Top Gift Pick
Our top pick, the yo-yo will make you more popular than Santa with your kids this year. Since yo-yoing is about finding the best yo-yo for your skill level and cool trick interest, we suggest one of the four options below.
The Imperial® is the original, All-American classic. A timeless favorite, the Imperial® features a narrow string gap, steel axle, and durable plastic body in bold colors. It is great for learning the basics of yo-yoing! Price $4.49 Buy Here
Based on the world-famous Butterfly®, the Butterfly XT™ is a classic design with modern technology. It features a ball-bearing axle, offering 10x the spin time of the original Butterfly®. It boasts a take-apart design for easy knot removal and a starburst response design for snappy returns to the hand. These features make Butterfly XT™ perfect for a beginner to intermediate player looking for high performance at a great price! Price $5.99 Buy Here
The Reflex™ is the easiest yo-yo for new players. It returns to the hand without having to tug the string! In the center of the yo-yo is a centrifugal clutch. As the yo-yo loses spin, this clutch engages around the axle and the Reflex™ automatically snaps back to the hand. Price $9.99 Buy Here
The Pulse features special LED light-up technology. It is designed with a ball-bearing axle for long spin times and friction stickers for easy returns. Used by world champions! Price $11.99 Buy Here
Our Second Favorite Pick
After discussing with Santa's helpers, we have picked the QuickCube as our second favorite toy this year. A long time favorite, puzzle cubes engage all ages.
We feature two options to choose from depending on your age and skill level. The Quick Cube™ 2 x 2 is the perfect size for your beginner puzzle solver. It is not only easier to learn, but large blocks feature quick turning mobility for faster speeds. Whereas the Duncan® Quick Cube™ 3 x 3 features a smooth, easy turning design to allow the user to "corner cut" for superior performance and play. Ideal for novice to pro! Price $5.99 Buy Here
Our Third Most Popular Toy Pick
The Pop 'N Hit Bat, puts a new twist on baseball playing! You can easily pitch to yourself or your friends with this special bat and ball! The pop-up self-pitching mechanism at the end of the bat launches balls 5' to 10' in the air to allow for a full swing. Features a 28" length and a durable, high-impact plastic construction. Price $16.99 Buy Here
Rounding Out Our List
To help engage your kid's minds with beneficial brain training that is fun, we suggest the Mental Block or Magnetic Block. All of us suffer from occasional mental block, but Duncan provides relief with the new Mental Block brain twister.
Fun for two to four players, this game is easy to learn, but a challenge to win! More fun than two-dimensional games, with the Mental Block you can go around corners and over walls. With alternating turns, simply be the first player to connect four pegs in a row, and you win! Other game variations included! Price $6.99 Buy Here
Our Magnetic Block uses 7 different colored block "bundles", stack together to create shapes, or solve for a perfect cube. Great for spatial awareness, memory, problem-solving, and creativity stimulation, the 120 magnets lock pieces together in hundreds of different configurations. Perfect gift for any age or gender! Price $14.99 Buy on Amazon
Use FAMILY25 for a one-time 25% off on your entire purchase when you check out. Limited time only!