Team Duncan at the 2020 Japan National Yo-Yo Contest, Yoshihiro Abe Won the 5A Division!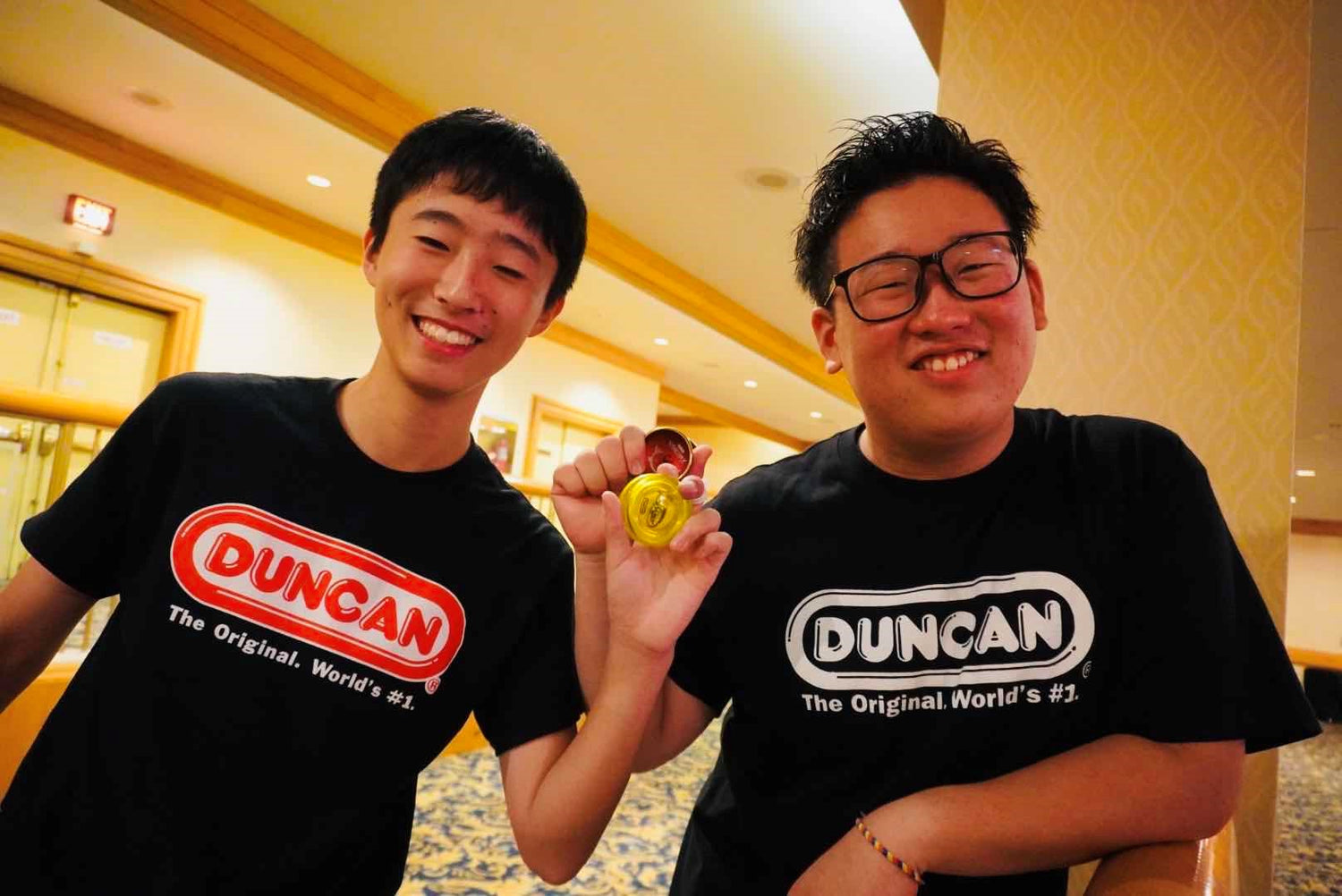 This past weekend, the Japan national yo-yo contest took place. As this was one of the only in-person contests to happen this year, the results were highly anticipated and the yo-yo players in attendance knew they had to give this all they had: it was their only real chance to compete this year, after all. It was a fierce competition, which makes us extra proud of just how well team members Yoshihiro Abe and Hajime Sakauchi performed there. Hajime came in third place in the 2A division, and Yoshihiro snagged the gold in the 5A division!
We say this after every time he competes, but Hajime's 2A performances just keep getting better and better. Seriously. Last year at the World Competition in Cleveland, Hajime grabbed the bronze in the 2A division, and, although he also placed third at this competition, he has made notable strides in his stage presence and trick cleanliness since then. What impresses us most of all about Hajime is that he continuously improves and hones his craft: we are always on the edges of our seats waiting to see how he does next. His performance at this year's Japan nationals is really exceptional and, as usual, we cannot wait to see what Hajime does next.
Now: let's talk about Yoshihiro's performance. Some yo-yo players just make you want to pick up a yo-yo and do some tricks; to make some new crazy tricks and to land them and be satisfied. Yoshihiro is a perfect example of this. His tricks are exceptionally difficult yet Yoshi presents them in a way that makes them seem effortless. He breaths so much life into his tricks, and it is such a pleasure to watch him play yo-yo. Not unlike his team member Hajime Sakauchi, Yoshihiro continues to improve and improve and just when you think he's done leveling up, he goes ahead and blows your mind one more time.
In his performance, Yoshihiro is using the new and improved silky smooth YoshicudaX and a brand new signature counterweight! The YoshicudaX we released last year was great and nearly perfect: it played like a dream and was perfect for Yoshihiro's 5A tricks, but there were machining difficulties with this design that left all of the batch as b-grades due to some vibe. Working hard with our machine shop, we not only remedied this problem, but we produced one of the single smoothest bimetal yo-yos that we've ever really experienced. Silky. Smooth.
As a cherry on top of this Yoshicuda silky-smooth goodness, Yoshi is also using a new signature counterweight which we're kinda obsessed with. It was designed with one thing and only thing only in mind: speed, speed, and more speed. Yoshihiro was never satisfied with how slowly his counterweights moved: he felt a little restricted. Yoshihiro noted how it was a lot easier to make a counterweight move fast if he was using something smaller and denser: we took note of this and made Yoshi a counterweight that leaves ample room to go as fast as anyone could ever want. A delrin shell with a brass core, Yoshi's new counterweight is a compact powerhouse. Just check out how fast Yoshi makes that thing move in his winning freestyle!
On the whole, we are super proud of both Yoshihiro and Hajime. This year was a tough one, and young yo-yo stars like Yoshi and Hajime bringing such hot tricks to this competition signals hope for the future of yo-yo tricks and competition. We cannot wait to see what they have in store for the championships of tomorrow.