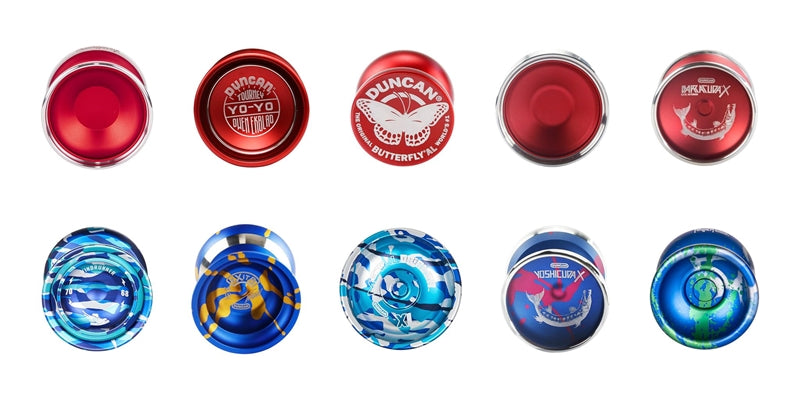 Last year was a lot of fun: a lot of product launches, events, new members and news. Last week, we wrote an article about our brick and mortar efforts - when you get a chance, please check it out here!
Moving onto the 2019 Yo-Yo Recap, we released a total of ten metal yo-yos. It's a lot of work, but worth it! Our ultimate goal is to release different types of yo-yos with unique characteristics for you to like at least one or two or all. We made monometals, different bi-metal placements, made in the USA, and designed by champions & engineers around the world. It's crazy, but we are thrilled because your support inspires us to keep moving and forget the noise and negativity around. Let's break it down one by one!
Mayhem | Made in USA
February 2019
(Photo by YoYoExpert)
Our first release of 2019 is the Mayhem. It's just right to have another Made in the USA in our line, and we would be happy to do it again. This throw is incredibly fun, organic in premium feel.
Grasshopper GTX
March 2019
A year-long of testing and the yo-yo that helped win multiple yo-yo contest even before releasing. Grasshopper GTX is one of the best bi-metal out there. It's a fact. We'll keep this as long as we can because it's that good.
Yo-Yo Day | Windrunner 7068, Metal Drifter XL, Exit 8
Early June 2019
We take Yo-Yo Day very seriously. We released three GREAT Yo-Yos for an incredible price.
Windrunner 7068 – A lot of people requested it, so we obliged. The first Windrunner is 6061-grade aluminum. Our goal is to keep it economical, while the performance is top-notch. However, many people suggested running the same model in a premium-grade metal to complete the package. The result is fantastic, our favorite $40 range throw to-date.
Metal Drifter XL – if we are talking about and XL size yo-yo with a TON of fun, it is the Metal Drifter XL. A lot of people mentioned that it's huge and plays like a standard size yo-yo. It's crazy to think that way, but it's true.
Exit 8 – the reborn of a great yo-yo, in bi-metal. Working with Takeshi Kamisato, the master of all skill toy is just a dream. Reworking the original Exit 8 design with his idea is just mind-blowing. This yo-yo is in a little undersized, but don't be deceived by its size, because it plays good and spins for a long time!
Yoshicuda X
Late June 2019
Yoshihiro Abe is gearing up for contest season. He's a big fan of all the Barracuda line from the very start, but as he grows up and polishing his tricks, he requested that he wanted the same design, in a smaller and more full width. The result? It's a BEAST. We only released around 300 pieces total.
Barracuda X
July 2019
Working with Rafael Matsunaga, the founder of Barracuda line-up, is always an adventure. Barracuda X is a 7075 bi-metal with a price tag of $80, but it feels so luxurious.
Tourney, Orbital GTX, Butterfly AL
August 2019
World Yo-Yo Contest in Cleveland.
Tourney

Oh, man. This Yo-Yo. We knew the feeling and design we wanted, but getting the right tolerance took us four revisions. It's worth it. Having the stainless steel in a unique area gave it such an original feeling. I don't think I ever played with something similar. The looks are very similar to our other yo-yos, but the feeling is so different.
Orbital GTX

We had this design a long time ago, but we felt like the design is too futuristic, so we ended up releasing it in 2019. The yo-yo looks enormous but feels smalls when you hold, and it's light but long-spin time. It's just hard to explain, so try this when you have a chance!
Butterfly AL

I had this idea years ago. It's a yo-yo that people will judge you why did you do this? Why is the design like this, and the look is that? Those are the questions I feared the most, so we waited a bit. It ended up being one of our most in-demand Yo-Yo last year!
Special mention is our Butterfly XT. We remodeled this Yo-Yo last year, and we've gotten a lot of support from everyone. Redesigning this yo-yo is one of our proudest moments.
I hope you enjoyed the ride, and we thank you for your incredible support! It's crazy how all the yo-yos I mentioned above, nearly all the comments I hear are good things. It's very heartwarming how we are getting in touch with the community again. After releasing all these amazing yo-yos, we shifted our goal to only design a high-performance yo-yo. Writing this article made me excited to show you guys what we have in 2020.