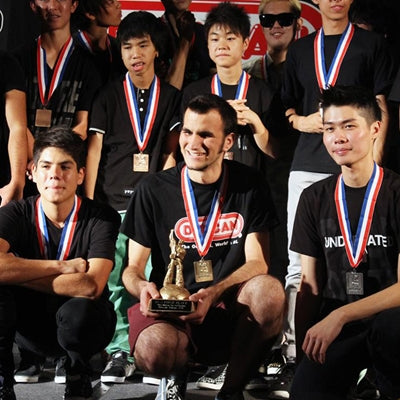 When did you starting yo-yoing?
In 2005 my classmates in primary school started playing yo-yo, and I was captivated by it. I had to join them, so I decided to buy my first yo-yo, a Duncan Throw Monkey!
What made you realize to be different?
I learned my first tricks from my classmates and from the Duncan trick CDs that you get with the packaging of some starter Duncan yo-yos.
After a few years, I got into the Hungarian yo-yo scene on a deeper level, so I started to learn tricks from other Hungarian players. During this period of time, the internet had also started to offer more and more opportunities to learn new tricks.
But I never really felt comfortable with learning other people's tricks, so I usually learned just the basic mounts and elements and tried to focus more on creating my own tricks. This was a really long process, but after six or seven years I finally started to create tricks that I was satisfied with.


A lot of yo-yo players stick to the strategy of using tried and true yo-yo tricks for competition. Why did you decide to use so many original and new tricks for winning your yo-yo titles, specifically when you won worlds?

Around 2011 and 2012, I started to realize that the concepts I was experimenting with were different from other players' tricks. Some of the concepts I came up with seemed impossible to hit, but I had a lot of fun with trying to land them, so I kept trying and trying. After many months of practicing, I was even able to hit many of these tricks under the immense pressure of being on stage.
It's never easy to decide which trick is way too difficult to put into a freestyle, but I feel like I have a good sense for it by now. Since I had a lot of fun with creating and practicing my own tricks, and it took me so long to finally find my own style, it was obvious to me that I had to use these type of tricks at contests, including my first time competing at Worlds in 2013. This has turned out to be a good strategy, because judges at Worlds tend to value the novelty of a new, innovative style.
Winning freestyle link here.
What is your goal this year?
Even though I've won several big titles, I've never felt like I've been able to show what I'm really capable of on stage. I still want to hit a really clean freestyle with my favorite tricks, and after my freestyle to feel like, yeah, I couldn't have done better, I showed them what I got. If I could reach my full potential, I think I could win Worlds again. For now I want to focus on reaching my full potential and I don't want to stress or worry too much about placing.
What was your favorite moment?
I would mention two favorite moments: EYYC 2013, and Worlds 2013.
Hitting most of my difficult tricks on stage at EYYC 2013, getting a huge ovation from the crowd, and winning by more than 23 points really helped me to believe in both myself and my tricks.
After this experience, I started to fantasize a lot about winning Worlds. During this period of time, for many months before falling asleep at nights, I had a strong fantasy in my mind of myself being announced as the new World Champion and receiving the trophy while crying, but it felt so real that it was more like a vision. But when it really happened, I didn't really register it and it still feels a bit like a fantasy or a dream.
What is your trick process?
I don't really have a trick process, I just try to explore new things and go with the flow. I got a lot of inspiration from Takahiro Iizuka around 2010-2012, he really showed me the limitless nature of yo-yoing. Also, when I create a concept, I try to use it in many different ways (for example, my thumb flick concept).
Story on how did you like the Grasshopper GTX?

The new Duncan Grasshopper GTX is a real competition beast. Super stable, super powerful, super comfortable. I
wouldn't change anything about it. It's really a perfect yo-yo in my opinion and I'm really honored to have my name on it.



Thanks for reading!