Las Vegas Yo-Yo Open 2019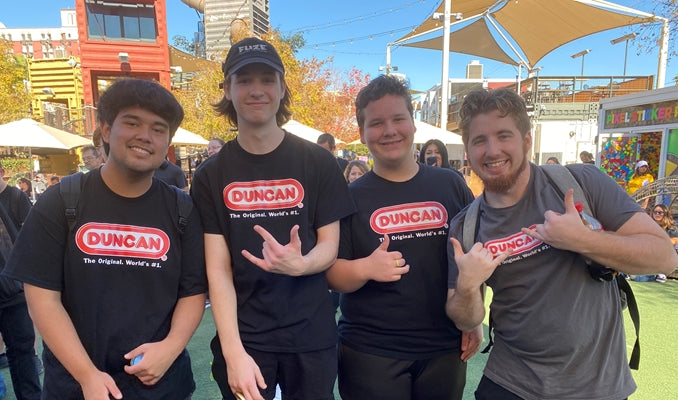 Two weekends ago, Team Duncan traveled to Las Vegas, Nevada, for the Las Vegas Open Yoyo Contest, and great times we had all around!
Leading up to our team freestyle, we announced two of our players with the third being a mystery, the day of the contest during that very team freestyle we introduced our newest team member, the one and only "Mr. Clean, Kris Toledo."
Kris has been climbing the ranks very quickly in the 1A competitive scene, and we are thrilled to have him on the team.
On the sunny stage team, Duncan crushed it, with all 4 of our players that competed making it through to finals and notably, Kris Toledo coming in 1st for the preliminary round.
In finals, our team had an incredibly diverse and skilled showing, to start our showcase Justin Dauer came in 11th place with a technical and specialized routine. Justin is the 2019 Junior National Champion, and with a method like this, we can see why he has incredible control of the yoyo while moving at an exceptional speed, and we cannot wait to see what the future holds for him!
Up next in 1A finals was Dylan Ostrowski landed in 9th place with one of the most exciting and unique routines of the entire day. Coming from Massachusetts, Dylan continues to wow yoyoers worldwide with his incredibly unique bag of tricks, which you can see in the video below:
In 6th place was the incredible Tylor McCallumore, who always impresses with the impeccable technical ability that earned him 6th place. Tylor has a great mix of tracks, including his signature arm tricks that are sure to blow your mind. Check below to see his incredible routine:
Last but not least, was Kris Toledo, who showed us exactly why they call him Mr. Clean since this time was no different. His routine was nearly flawless, and it's no surprise that he ended the day placing 3rd in finals, this is only the beginning for Kris, and we are so incredibly excited to see what's in store for him! Welcome to the team!
Side note: Christopher Chunn and Bryan Jardin are present to show support! Bryan gave a lot of hugs and tap in the back before and after their freestyle. Christopher gave nearly a thousand claps throughout the day.