What are we doing in the last six years?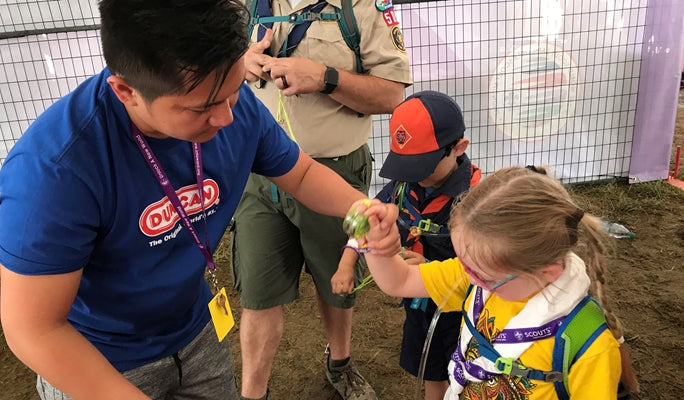 Six years ago, I was hired by Duncan to relocate to the USA to be a professional yo-yo demonstrator at Disney Springs, Orlando, with the purpose of spreading the love of yo-yoing to millions of families across the world. Reflecting on it, I think teaching kids and telling the rich history of yo-yo are the reasons why I chose to come here. Besides, as the old saying goes, "do what you love, and you'll never work a day in your life."

As the years go by, I've become more involved in long-term planning, product development, marketing, and advertising. It's been a dream. Just three years ago, I was hired to be an all-around marketing guy and help various departments at Duncan.
As a yo-yo player, what excites me is that I get to go to so many different yo-yo contests, hang out with Team Duncan, design yo-yos, and develop marketing strategies. I get to do all the fun stuff. But deep inside, there's this part of me that REALLY wants me to contribute even more; I want to do something that will hugely impact and benefit yo-yo as a repayment to the community that has helped me become who I am today. So when I heard that we had to change our Disney Springs partnership plans, begin partnering with Boy Scouts, and other projects that can grow the community, I wanted to be on board.
Here's the summary that's been going on behind the scenes!
Boy Scouts
Three years in the making, we have partnered with Boy Scouts on their programs. "The World Organization of the Scout Movement (WOSM) is a confederation of more than 170 National Scout Organizations with over 50 million members worldwide." Not many kids know yoyoing anymore, and our goal is to bring awareness and hand out as many as yo-yo as possible. Even a small fraction of that number will be a tremendous help to grow our community and build awareness.
We've participated in some of their events like World & National Jamborees and multiple regional events, which attracts more than 50,000 kids to young adults ages 9-17 years old per event.
As of today, we have over 7,000 Scouts signed up on our Yo-Yo Scout Program!
For more information, visit www.yo-yo.com/scouts.
Cub Scouts


Just this year, we helped launch the Yo-Yo Preview Adventure with Cub Scouts. We are proud to have Yo-Yo as part of their exclusive adventures that reaches 1.3 million kids worldwide in just one year. The Yo-Yo Preview Adventure with the Cub Scouts will help preserve the yo-yo history, show and teach the joy of playing yo-yo, and possibly encourage them to learn the modern style of a yo-yo.
For more information, visit www.yo-yo.com/cubscouts.
School Demo with Jennifer Baybrook in South Florida!

The most complicated process but the real old school tradition: yo-yo demonstrations at schools! Starting in South Florida and led by the first female world yo-yo champion Jennifer Baybrook, we are confident that this project will turn out great. With her experience demonstrating yo-yo in 15 different countries, we are sure the show will turn countless kids on to the wonder of modern yo-yoing, and we hope to pass on the last 90 years of yo-yo history of kids who will be trailblazing the next 90 years. We will post more information and a proper introduction to this project soon!
For more information here: www.yo-yo.com/schools
Disney

Last but not least, our Disney Partnership. We all know that Disney attracts more than 16 million people a year. That's crazy. Personally, I probably taught several thousands of kids how to play yo-yo. That makes me wonder how many kids have our collective staff taught? That's the goal: to hand out as many yo-yos as possible to the entire planet. Let them learn the history and give modern yo-yo play a try!
If you are visiting Orlando, check out our kiosk at Disney Springs!



Disney Demo every Thursday and Friday with Noel Kunz
Another variant of our Disney Kiosk, we also offer a yo-yo show at Disney Springs every Friday 8:15 pm and 9:15 pm that attracts nearly 1,000 people watching every show! Shout out to Noel Kunz for his top tier Yo-Yo Performance!

Overall, Duncan is doing their best to remind the world that yo-yoing still exists, and to show how much better it has become. These four brick and mortar projects are just a start and will keep growing. Here at Duncan, we care for the future.