World Yo-Yo Champion Story Part One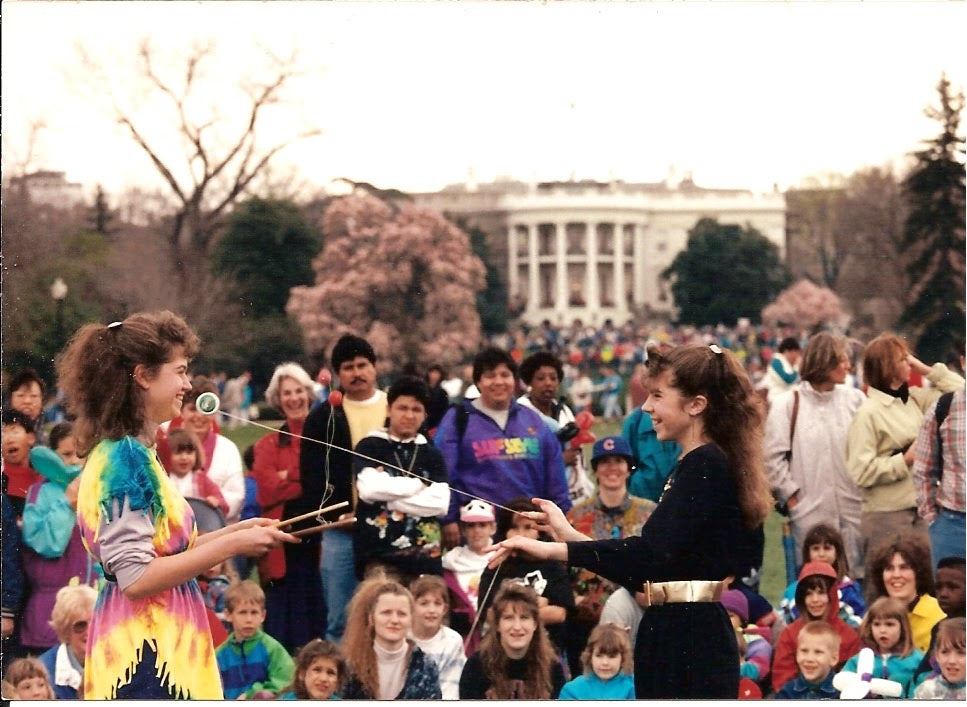 In 1987, on a warm summer morning in Vermont, a six-year-old girl discovered the yo-yo and what followed was an unusual journey around the world. This is the story of Jennifer Baybrook and her 30+ years of yo-yo demonstrations, competitions and the friends she made along the way.
---
Part 1 - The Beginning
One summer day while camping with my family, I picked up a simple toy called a yo-yo. At the time I was too young to know that what I held in my hand was not just a toy, but a tool that would change my life.
It all began in 1987 at a little campground in Vermont called Kampersville. At this camp they had daily and weekly activities for adults and kids to participate in each year. One of my favorite activities was shuffleboard and competing against the other kids at the camp. Not only did I have fun playing, I was great at it!
Every weekend, I would play and win an ice cream or something at the camp store. We had already been camping for a couple of weeks and I was ready to play and win for my third weekend in a row!! When the weekend came, I put on my six-year-old game face and my parents brought me to the courts. When we arrived, the courts were empty. The shuffleboard game activities had been canceled. Much to my dismay, the only activity they had that day was learning how to yo-yo.
I had seen the yo-yo teacher showing off his skills at the family entertainment night the weekend before. Although I had been amazed by his tricks, I didn't have much interest in learning. Despite this, my parents tried to convince me the yo-yo activity would be fun and then sent me on my way. I slowly walked over and put out my hand to receive this orange Duncan yo-yo. I listened and watched the yo-yo man show me my first trick, the gravity pull. I did that with ease and still not impressed asked him what was next. He then showed me the sleeper, which I also did within a couple of tries. Still not wowed with the yo-yo, the yo-yo man took things up a notch and challenged me to do "walk the dog". Finally, he had my attention.
It was at that exact moment, that my life changed, and I began a journey that would send me around the world. A journey that would immerse me in a subculture based on one of the oldest toys in history.
By the end of the summer, my entire family had learned how to yo-yo. My sister, father, and my foster-brother. We packed up and went back to our home in a quiet town in northern Vermont. We had taken to yo-yoing as a regular activity and even became hooked on this TV comedy show called "The Smothers Brothers".
On this show, was another yo-yo man called "The Yo-Yo Man". ?? He would wow us with tricks we didn't know. I would watch with attention and as soon as the commercial came on, I ran into the other room to try the trick I had just seen.
The days and weeks passed quickly and soon the winter and spring. Finally, summer had come, and we prepared for our journey back to "Kampersville". I couldn't wait to see our camp yo-yo man and show him all that I had learned. Not only was he good at yo-yo's, but he had also been a professional "Cheerio" yo-yo demonstrator in the 1950s. Naturally, with more than 30 years of experience himself, I knew he would have more tricks for me to learn!
I went home again that year having mastered what seemed to be most of the one-handed tricks and thinking that was it. But what I didn't know was that my teacher had suggested that my parents order two special yo-yos' so I could potentially learn two-handed yo-yoing. At the time, this was the natural progression of yo-yo skills. But only a skill level that seemed doable by adults not seven-year-olds.
(The Smothers Brothers)


Well, I'm sure by now you know what happened next. We received two-wooden yo-yo's from a California company called "Tom Kuhn". This company made yo-yo's for the famous TV yo-yo man, Tommy Smothers and all the special "masters of yo" that they had on their TV show. Tom Kuhn, spoke to my parents and asked who they were for. Surprised that they had a daughter that could do two-handed, he shared this with the Smothers Brothers. I was soon invited to be on their show as a special guest.
(Live with Regis & Kathy Lee Morning Show)
Only two years after I had picked up my first yo-yo, I had my "professional debut" as a yo-yo demonstrator. Soon, local newspapers and TV news featured my story and then our phone began to ring. My parents started getting regular requests to have their daughter come to a local event, fair, festival, etc. and show off her cool yo-yo skills.

(Left to Right - Mark Sitton, Harvey Lowe, Stuart Crump, Dale Oliver, Bob Malowney, Donald Duncan Jr.)
The Early Years of my Career
In the years that followed, I found myself traveling around New England entertaining at schools and fairs with my first yo-yo teacher, Phil Morin. During the late 80's and early '90s, I was one of only three kids that were demonstrators. The other two were teenagers from California, Paul Buethe and Mark Sitton. We joined the ranks of experienced professionals who had all started in the 1950s-1970s. Professionals that included Dale Myberg, Dale Oliver, Harvey Lowe and Linda Singpiel.
I also became acquainted with a subculture of key influencers including Donald Duncan Jr., Stuart Crump, Bob Maloney and Lou Newmyer. You may know some of these people and you may not. But either way, what you should know is that they were all very influential in the growth of the yo-yo subculture that we have come to love.
In 1990, Donald Duncan Jr., had a company called Playmaxx. It was with his company that he created a traveling yo-yo museum and tour of champions marketed as "The Return of the Yo-Yo".
The Return of the Yo-Yo was a museum exhibit put on display at various shopping malls across the country. Along with the yo-yo's on display, the mall allowed us to put on regular yo-yo performances in the center of the mall on a stage that was a giant yo-yo. We were the opening act usually for more mainstream entertainers like Brenda Lee, a famous singer at the time.
It was on these tours that I met some of the professional yo-yo masters mentioned above. Each teaching me new yo-yo tricks or challenging me to one they had created. Although I was a shy child, I had a competitive side that made me determined to do every single trick that they showed me.


(Performing with my Sister at the White House Easter Egg Roll Event)
Soon after this, my sister decided to get into the act with me. However, she could not yo-yo to save her life. ?? She found her talent with another toy called a "paddleball". We combined our talents and hit the road as a variety show sister act. My father was our MC and my mom was our talent agent and tour manager. We traveled the yearly fair and festival circuit performing with every type of performer you can imagine from zoo shows and acrobatics to dancers and singers. Our biggest performance as a sister act was in 1994 at the annual White House Easter Egg Roll event. We continued with our sister act show for two more years until my next big career break came...

Part 2 - My World Tour
To be continued next week. Subscribe to our blog to be notified when we post it.
(In Japan performing with THP - Kenji Nakamura, Me, Sky Kiyabu, Yves Young, Ryan Lai, Ross Pascual, Cody Kiyabu)